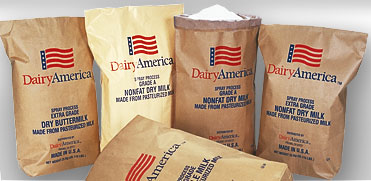 Extra Grade Dried Whole Milk will meet or exceed the set requirements. This is an Extra Grade Spray Dried Whole Milk Powder. Extra Grade Whole Milk Powder is available with a fat content of either 26% or 28½%, and is commonly used in the manufacturing of: confections, pies, cakes, custards, and other bakery products.
Storage and Shipping
Product should be stored in a dry, cool, clean warehouse free of odors with a temperature below 80 degrees F and relative humidity below 65%. Stored under these conditions, it is recommended that the product be consumed in less than eighteen months to assure fresh tasting product.
Packaging

Multiwall kraft bags with polyethylene inner liner or other approved closed container, i.e., "tote bags", etc.
TYPICAL ANALYSIS

Fat

26.0% Minimum

Moisture

3.0% Maximum

Protein

26.7%

Titratable Acidity

0.15% Maximum

AntibioticResidues

Negative

Calories (cal/lb)

2260.00
MICROBIOLOGICAL STANDARDS

Standard Plate Count

10,000/g Maximum

Coliform

<10/g

Yeast

<10/g

Mold

<10/g

Salmonella

Negative

Listeria

Negative
PHYSICAL PROPERTIES

Scorched Particles

Disc B (15.0mg), Maximum

Solubility Index

1.00 ml, Maximum

Color

Light cream to white

Flavor

Clean, cooked flavor

Odor

Fresh, no off odor
The NUTRIENTS found in 100 grams of product are as follows:
| | |
| --- | --- |
| Protein (Nx6.38) | 26 g or 25g |
| Lactose | 36 g |
| Fat | 26.0 g or 28.0g |
| Water | 2.7g Maximum |
| Ash | 6.0 g |
| Calories | 499 K cal |
MINERALS

Calcium

1248 mg

Iron

0.4 mg

Magnesium

110 mg

Phosphorus

993mg

Potassium

1674 mg

Sodium

494 mg

Zinc

4.08 mg
LIPIDS: FATTY ACIDS

Saturated, total

.50 g

Monounsaturated, total

0.20 g

Polyunsaturated, total

0.03 g

Cholesterol

25mg

Calories from Fat

6.5 K cal
VITAMINS

Vitamin C

8.0 mg

Thiamine

0.415 mg

Riboflavin

1.8 mg

Niacin

0.951mg

Pantothenic Acid

3.568 mg

Vitamin B6

0.361 mg

Folacin

50 mcg

Vitamin A

30 IU
6.7 RE