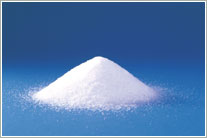 Sugar obtained by direct manufacture from sugarcane, after clarification of the cane juice by physical-chemical treatments, evaporation, crystallization, centrifugation and drying.

USES
Used as body agent and mainly as sweetener in the food industry in general, especially for: soft drinks, candies, biscuits, chocolates, etc.

BENEFITS
Wide range of industrial applications;
Lower cost in comparison with other types of sugars.

STORAGE
Excessive heat, high humidity or direct sunlight should be avoided; do not mix with chemicals or products with strong odors; and should never be stored in contact with the floor or walls. Variations in humidity and temperature may cause the sugar to harden (caking). (Relative atmospheric humidity below 65% is recommended).

SHELF-LIFE
24 months.

PACKAGING
50 kg polypropylene bags;
50 kg polypropylene bags with polyethylene lining (upon consultation);
Flexible 1.200 kg container;
In bulk in Copersucar approved trucks (upon consultation).

TECHNICAL SPECIFICATIONS
Characteristics

Unit

TYPE OF SUGAR

Type 1

Type 1

Type 2G

Type 3

Type 4

VVHP

Polarization

Z

min.

99.8

99.7

99.7

99.7

99.5

99.60

Humidity

%

max .

0.04

0.04

0.04

0.04

0.10

0.10

Ashes

%

max .

0.04

0.05

0.05

0.07

0.10

-

Color ICUMSA

UI

max .

100

150

150

200

450

450

Sulfite

mg/kg

max .

15

15

15

15

20

< 1

Dextrine

mg/kg

max .

-

100

100

150

-

120

Starch

mg/kg

max .

-

180

180

180

-

120

Turbidity

NTU

max .

-

20

20

20

-

-

Alcoholic flake

-

-

-

Absent

Absent

Absent

-

-

Black Spots

n/100g

max .

7

7

7

15

40

-

Insoluble Residue (Comparative)

1 to 10

max .

5

5

5

9

10

-

Insoluble Residue (Gravimetric)

mg/kg

max .

-

20

20

60

100

150

Magnetizable particles

mg/kg

max .

2

2

1

5

15

-

Granulometry

AM in mm

-

-

-

< 0.6

-

-

CV in %

< 35

Coliform at 45C

UFC/g per sample

max .

100

100

100

100

100

-

+ in 5 samples

max .

2

2

2

2

2

Salmonella

in 25g

-

Absent

Absent

Absent

Absent

Absent

-

Arsenic

mg/kg

-

< 1

< 1

< 1

< 1

< 1

-

Copper

mg/kg

-

< 2

< 2

< 2

< 2

< 2

-

Lead

mg/kg

-

< 0.5

< 0.5

< 0.5

< 0.5

< 0.5

-

Iron

mg/kg

-

< 2

< 2

< 2

< 2

< 2

-

Appearance

-

-

(1)

(1)

(1)

(1)

-

-

Smell

-

-

(2)

(2)

(2)

(2)

-

-

Flavor

-

-

(3)

(3)

(3)

(3)

-

-

Validity time

months

-

24

24

24

24

24

24

Type 2G - Type 2 Sugar with controlled granulometry
(1) - White crystal without hardening
(2) - Characteristic sweetness
(3) - Characteristic without unpleasant smell
SUGAR PRODUCTION
SUGAR CRYSTALLIZATION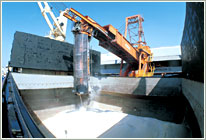 After leaving the evaporators (see Sugar Cane), the syrup is sent to the next stage of concentration, when the formation of sugar crystals will occur due to the precipitation of the sucrose dissolved in the water. There are two types of crystallization: in motion, or cooking and crystallization by cooling.

COOKING
Equipment called cookers, boilers etc., similar to the evaporation tanks, which work individually and discontinuously under vacuum, are used. Evaporation of the water creates a mixture of crystal coated in a sugary solution, which is called the cooked paste.
The concentration of this cooked paste is approximately 93 - 95º Brix, and its unloaded temperature between 65 and 75º C. One, two or three cooked paste systems can be worked with according to suitability.
CRYSTALLIZATION BY COOLING
The cooked paste is unloaded from the cookers into what are called crystallizers - U-shaped tanks with agitators - where the slow cooling will take place, usually assisted by water or air. This operation recovers part of the sucrose that was still dissolved in the sugar solution, as sucrose will be deposited on the existing crystals on cooling, increasing their size.

SUGAR CENTRIFUGING
From the crystallizers, the cooked paste moves to the centrifuging sector and is unloaded into the centrifuges. These consist of a perforated basket fixed onto an axle and activated by a motor that spins it at high speed.
The centrifugal force makes the sugar solution pass through the holes in the basket mesh, leaving only the sucrose crystals inside. The process is completed by washing the sugar with water and steam while it is still inside the basket.
The removed sugar solution is collected in a tank and returns to the cookers for recovery of the remaining dissolved sugar, until it is more exhausted. From this point, the sugar solution is called end syrup or molasses and is sent to make alcohol.
The sugar unloaded from the centrifuges has a high humidity level (0.5% to 2%) and also a high temperature (65-95ºC), due to the steam washing.
DRYING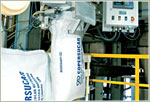 Cooling and drying of the sugar is carried out in a drier, a metal drum through which a counter current of air passes, sucked by an extractor. On leaving the drier, at a temperature of between 35º and 40º C, and with a 0.03% and 0.04% humidity range, the sugar is ready to be sent for bagging. The air that passes through the drier carries a small amount of sugar powder with it, making it necessary for this air to be cleaned to recover the removed sugar, returning it to the process.

BAGGING, WEIGHING AND STORING THE SUGAR
From the drier, the sugar is collected in a funnel-bottomed hopper that continuously empties it directly into the sack on top of some scales, thus performing the bagging and weighing operation.
Industrial sewing machines close the sack, which is then ready for storage. Sugar is stored in 50kg sacks in previously determined places, facilitating quality control.