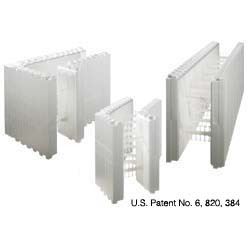 What Are Insulating Concrete Forms (ICF)?
ICFs are basically forms for poured concrete walls that stay in place as a permanent part of the wall structure.
ICFs provide excellent insulation on both the inside and the outside of the wall.
The ties within the forms act as furring, so interior and exterior finishes can be applied directly to the foam.
ICF walls are COMPLETE WALLS - Steel-reinforced concrete, insulation and furring all in one.
Characteristics:
ICFs provide a home or building that is far superior to any other in strength, energy efficiency and all-around comfort.
ICFs are made of expanded polystyrene (EPS) with two panels held together by plastic ties. The embedded ends of the ties flatten out to form fastening surfaces recessed within the foam to allow for any type of exterior or interior finish.
ICFs offer versatility in design as well as beauty, excellent noise reduction, and wonderful air quality.
ICFs are environmentally safe and sound.
ICFs Buildings are well known for their uniform interior temperature.
ICFs afford superior protection from hazardous storms and fire.
ICFs Concrete Homes and Buildings are AFFORDABLE.
ICFs offer a shorter construction time and less cleanup, thus the cost of job site maintenance is vastly reduced.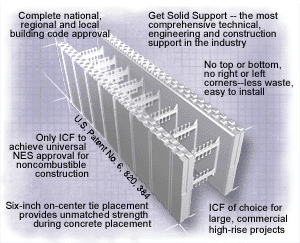 Advantages:
Design Flexibility for Homeowners, Designers, Architects, Engineers and Developers.
No matter what kind of design challenges you are considering, ICFs have the answers.
ICFs have been used in all types of construction from basements to high-rise condominiums.
Exterior walls, interior walls, straight walls, curved walls, arched windows, round windows, any type of design feature imaginable.
Ease of Installation
Versatility
Exceptionally Strong Structure
Superior Insulation
Lower Construction Costs
Quick Erection
According to the Portland Cement Association, 15% of all homes built in 2003 were built using ICFs.
Home built in America using ICFs have doubled each year since 1997.
INSULATING CONCRETE FORMS are Ideal For All Kinds of Construction:
Residential, Hotels, Banks, Schools, Office Buildings and Health Care Facilities