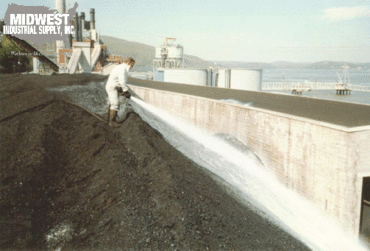 ICG has partnered with Midwest Industrial Supply to bring you the industry-leading Dust Suppressant, Soil Stabilizer and Erosion Control products. In business, since 1975, Midwest's quality products are also supported by unrivaled in-house expertise, experience, and customer service.
What's more, Midwest Industrial Supply's products provide the best environmentally friendly solution to all your dust control needs that can be used in environmentally sensitive areas including wetlands and rain forests, maintain the natural look of the area, effectively halts erosion and loss of plant cover. Additionally, Midwest's products have been demonstrated to safely control dust and other types of particle matter into the air and water, which reduces impact on human respiratory systems and minimizes eutrophication of local lakes, rivers and streams.
Through our partnership with Midwest Industrial Supply, ICG can now help you control your dust problems resulting from unpaved roads, open areas, gravel runways and helicopter landing zones to storage piles consisting of coal, mineral, ore and limestone; as well as mine tailings, ash ponds and landfills.
We can also export to you Midwest products that can be used to treat building pads, open areas and stockpiles, provide road stabilization and erosion control on slopes and serve as a tackifier in hydroseeding applications.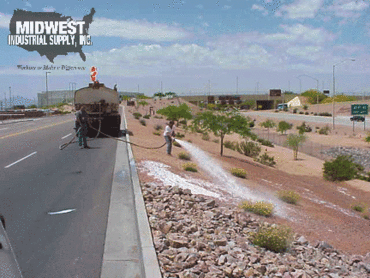 Erosion control or soil stabilization is a more effective solution than sediment control, both in terms of sediment pollution and cost. By providing erosion control and stabilization at the source, the sediment never becomes entrained. This is different than mechanical methods such as silt fences, hay bales, or retention ponds. Midwest's erosion control and soil stabilization products can eliminate 98% of erosion problems at the source and eliminate sediment that otherwise would occur - whereas mechanical methods are typically only 50% effective.
ICG is proud to state that our industry-leading Dust Suppressant, Soil Stabilizer and Erosion Control products are not only environmentally safe, but tested and certified by numerous independent agencies to be reliable and long lasting.
ICG and Midwest are fully committed to work very closely with you and your staff from the beginning until the end, step-by-step to ensure your complete satisfaction.
ICG is proud to be Midwest's EXCLUSIVE Dust Suppressant, Soil Stabilizer and Erosion Control products Distributor in Africa and in Brazil.
As the EXCLUSIVE Distributor for Midwest Industrial Supply, ICG promotes, markets, and sells the following industry-leading Dust Suppressant, Soil Stabilizer and Erosion Control products:
» Click here to fill out the Online Request Form
These products are manufactured by:


Midwest Industrial Supply, Inc.
1101 - 3rd Street
Canton, Ohio 44707
(800) 321-0699 Toll Free
(330) 456-3121 Phone
(330) 456-3247 Facsimile
http://www.midwestind.com
custserv@midwestind.com