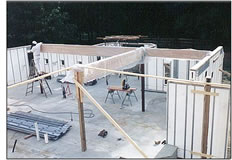 What are Thermotech 21 Panels?:
Highly insulated building panels with a core of rigid insulation supported with exterior and interior steel framing members made from 1" x 2" 18 gauge galvanized steel.
Steel framing members are joined together with self-tapping screws to provide a warp-free integral structure
Adjacent panels are joined with top and bottom 1-1/2" x 1-1/2" steel angles which are secured with self-tapping screws.
Advantages:
Quick Erection
Excellent Structural Integrity
Unprecedented Energy Efficiency
Increased Job Site Safety
Superior Affordable Housing from single family to whole developments
Tremendous Design Flexibility
Substantially Stronger than Conventional Framing.
Lower Construction Cost
Total Superior Building Solution
Finishing a Techbuilt Systems Home:
General Carpentry skills are all that is needed to finish a home constructed with Techbuilt panelized wall and roof system
Roof Finish: After panel joints are sealed, ½" OSB or plywood is fastened to the steel structural members in the roof panels and then felt paper and shingles are installed.
Exterior Siding: is directly applied to the Techbuilt panels.
Windows and Doors: are "ready to install" in a Techbuilt System home because of the exacting standards used to cut rough openings prior to delivery
Interior partition walls: are generally constructed of either wood or steel 2 x 4s and sheathed with drywall as in conventional frame construction.
Horizontal Wiring: runs are engineered into the panels prior to assembly, so field wiring is simplified. Vertical runs can be field routed with minimal effort.
Electrical Boxes: are field screwed to the structural support members in the wall panels