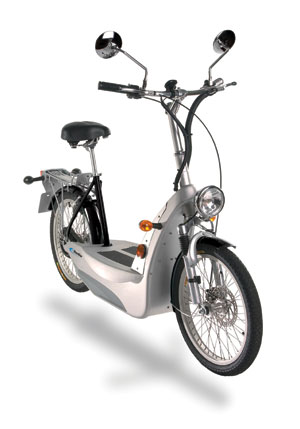 Air pollution from automotive and motorcycle emission has a far-reaching impact on the environment, the health of the citizenry and the economic vitality. The lack of clean air negatively impacts the quality of life. Unclean air has an inverse correlation with society's productivity.
The eGO Cycle is environmentally safe. The eGO Cycle's powerful but efficient electric motor is at least ten times more cost effective than gas-powered scooters and motorcycles.
As a battery powered vehicle, the Ego does not emit any pollution in the environment and it is a very quiet and incredibly versatile product. The eGO is a convenient, easy to drive, and reliable scooter that could be used for recreation, commuting, business or errands. In addition various department of a government can use the eGO. This will reduce the cost of government while promoting an environmentally conscious society. The Ego will also help in addressing traffic congestion in cities, airports, ports, universities, campgrounds, resorts, etc.
The eGO Cycle 2 EU is specifically for customers in Europe, The Caribbean, Latin America and Africa . The EU model meets all of the requirements of the homologated vehicle laws in the EU. The eGO Cycle 2 EU is vehicle type approved as a 'moped' under 92/61/EEC and carries the 'e' mark (e9*92/61*0119*00). What does all of this mean for you the customer? It means that the eGO Cycle 2 EU is legal for sale and use in any EU country and many other countries.
'e' marked lighting
The eGO Cycle 2 EU includes turn indicators, in the front and rear, that are operated by controls on the left grip. In addition to turn indicators, the EU version includes 'e' marked headlight, rear position and brake lights, and a license tag light. Also included are the required side reflectors and 'e' marked rear view mirrors.
Speedometer
The speedometer is a standard feature on the eGO Cycle 2 EU. The 6-function speedometer can be programmed to display in Metric or English units and has a back light for night riding.
Handlebar mounted controls
Controls for the turn indicators, headlight, and the electric horn are located on the left handlebar grip just as you would find them on a motorcycle.
There are a number of other details that make the eGO Cycle 2 EU unique for European and African customers. Importantly - the eGO Cycle 2 EU ships with statutory markings, and a certificate of conformity (COC) that enables registration in an EU country.
Charging
The eGO Cycle 2 (both the standard and EU versions) includes an on-board charger that will accept any utility voltage. So - no matter where you are - if you can find an outlet - you can safely plug in. The eGO Cycle 2 EU will ship with a charger cord compatible with your country. Any cord that you would use to connect your computer to a local outlet will also work.
Batteries
Two 12 volt sealed deep-discharge lead-acid batteries specially designed for the demands of electric vehicles. 20+ miles per charge, swap in a fresh pair if you want to double your range. Good for years of everyday use. They'll carry you up to 10,000 miles before they'll need to be replaced. Swap in a fresh pair if you want to double your range.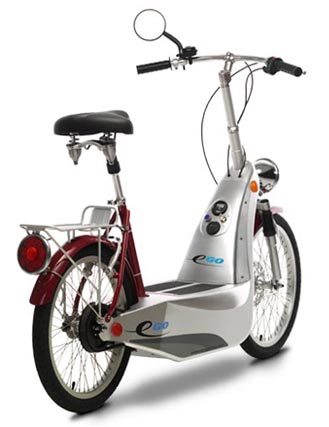 Performance Features
Max range per charge (miles): 25
Max Speed* (mph): 23
Range at top Speed* (miles): 23
Acceleration (100 ft dash, sec): 2.9
Hill Climbing Ability (170lb rider): 18 MPH @ 15% Grade
Max payload (lbs): 250 (rider and cargo)
Registerable / Road Legal
On board smart charger: 5 hr charge time
Fast Charge Connector: 1.5 hr charge time
Weight lbs. (W/WO) batteries: 120/70
Suspension, Front
Selectable Performance Modes (Fast* / Far)
'Whisper Drive' belt transmission
Motor power: >4000W peak, >1000W cont
Warranty
Chassis / Frame: 10 Years
Batteries: 6 Months
The rest: 1 Year
Safety
20 Inch Wheels
23" Handlebar width (subway legal)
Brake light (DOT)
Head light (DOT)
Tail light (DOT)
CPSC Reflectors
Front Disc Brakes
Rear V Brakes
One hand speed control
Automatic Braking (anti-lock)
Mirror
Heat Treated, Anodized Monocoque Frame
Adjustable seat height/position
Bell
Features
Fast Charge (1.5 hr) capable
Quick swap battery pack
Step Through Design
Range Indicator
State of Charge Indicator
Light Switch
Front and Rear fenders
All stainless hardware
Rear Rack
Keyed Ignition (security)
CONTAINER LOAD: 40' Container
QUANTITY: 155 Units of eGO Cycle 2 EU + Some PARTS
INCOTERMS: Cost & Freight (Included) To Any Safe World Port.
PAYMENT TERMS: Letter Of Credit Payable 100% at sight.
ELIVERY LEAD TIME: Two Weeks From Receipt of Payment .