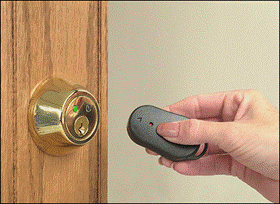 The deadbolt will lock and unlock your door using a high-security infrared remote system (similar to Luxury Automobile system). It provides the convenience of a keyless access to your door. This stand alone, battery-powered deadbolts, is in a lifetime tarnish-free (P.V.D.) brass finished housing. It is easily installed on virtually any door and does not require any additional drilling.
Product Information
Audible Tones for Lock, Unlock, Jam, and Low Battery
Recognize Up to 30 different remote control codes, and remote control can be duplicated for unlimited users.
Additional keys included for conventional operation.
Two remote controls included.
6 pin cylinder with universal keying system
Receiver and Remote control each incorporates an 8 bits CPU with EEROM memory, it provides up to 1.6 billion different codes and it will not lose programming code during batteries changes or power failure.
Single push button programming procedure, very user friendly.
Use 4 conventional AA batteries.
Low battery consumption, last up to 18,000 times of usage per set of batteries.
Standard installation, no additional drilling required.
P.V.D. lifetime Non-Tarnish brass finish.
Protective inner shroud resists prying or wrenching.
Free spinning cylinder guard.
Minimum Quantity: 1,000 Units
COULD BE USED FOR HOMES, HOTEL ROOMS, OFFICES BUILDINGS , Etc.
NOTES:
SAMPLES are available at BUYERS' own expense.
To order Samples, please ADD USD $20.00 per Unit to the price indicated above.
The FULL AMOUNT for the Samples Must be received by International Commerce Group prior to shipment of Samples.
When you purchase the required minimum order, ICG will refund your full sample price.